Product News
The Superfast Ninja in Streets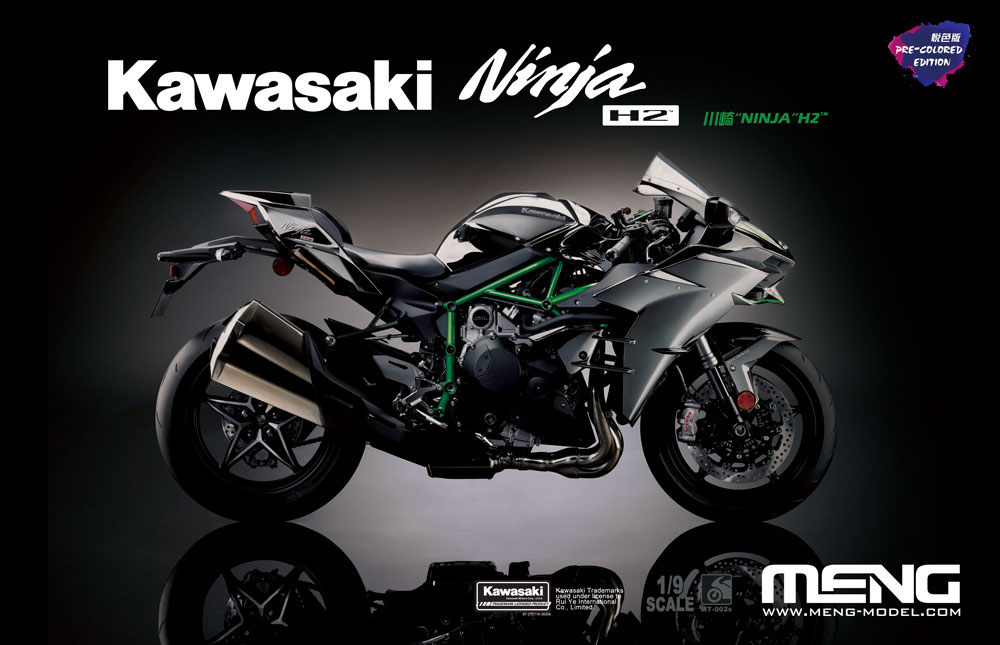 Designed to be the ultimate motorcycle, the street-going Ninja H2 is based closely on the closed-course Ninja H2R. Powered by a 200 PS supercharged engine, it offers intense acceleration, superb high-speed riding potential, supersport-level handling performance, and a sensory experience surpassing anything that riders can find today. The Ninja H2 power unit is loaded with technology developed specifically for this supercharged engine. In order to accommodate the higher air pressure form the supercharger as well as ensure a high reliability with the over 300 PS output of the closed-course Ninja H2R, the whole engine was designed to be able to handle stresses 1.5x to 2x greater than on a naturally aspirated litre-class engine. In fact, aside from its camshafts, head gaskets and clutch, the engine unit is exactly the same as the unit on the Ninja H2R.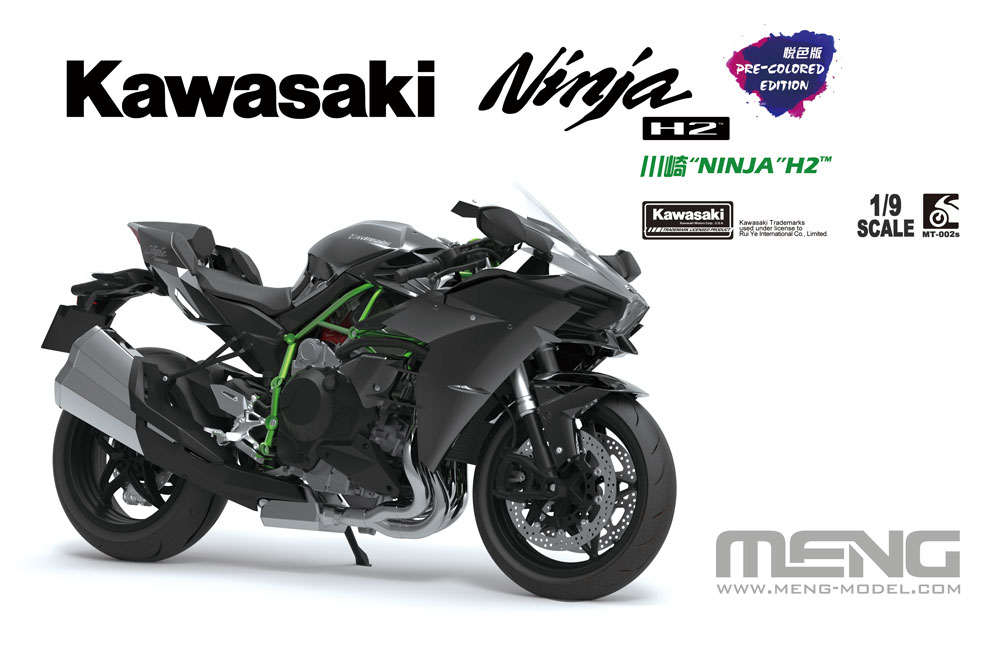 This MENG MT-002s Kawasaki Ninja H2™ is another 1/9 scale precision pre-colored snap-fit motorcycle model kit presented by MENG and Kawasaki. The finished model will be 231mm long. The whole assembly process of the pre-colored parts is cement-free.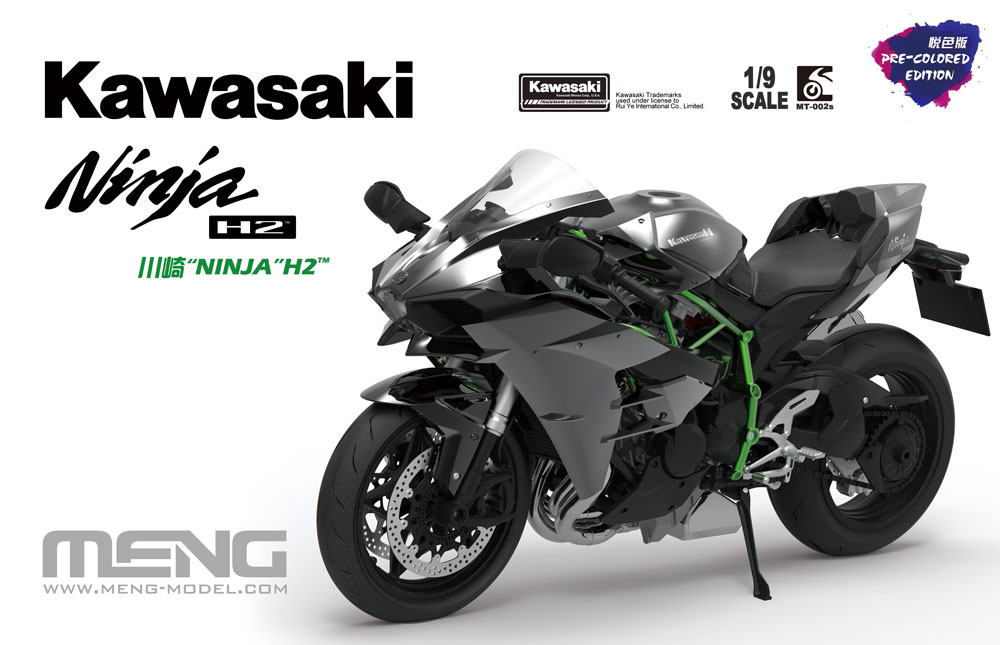 The silver-mirror paint used on the Ninja H2 was developed by Kawasaki specially for motorcycles. Its highly reflective, glasslike metal appearance adds to the bike's stunning design. This feature has been realistically replicated in this MENG kit. The parts' mirror finish is bright and exquisite.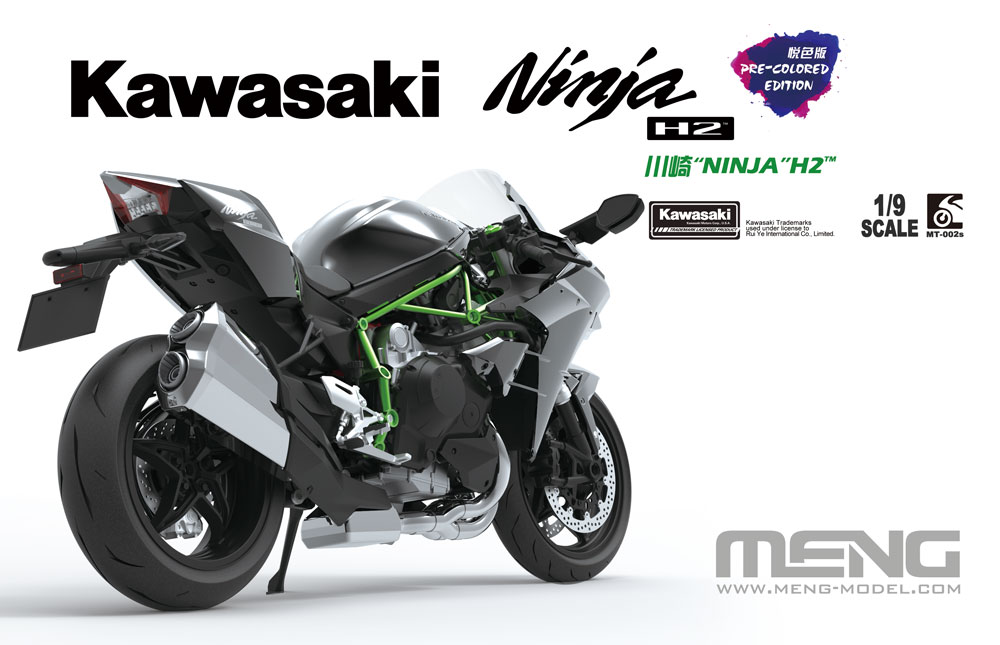 The rearview mirrors of the Ninja H2™ integrate turn signals. They are designed to be aerodynamic, which can generate downforce during driving to stabilize the vehicle. This pair of specially shaped rearview mirrors are highlighted in this kit.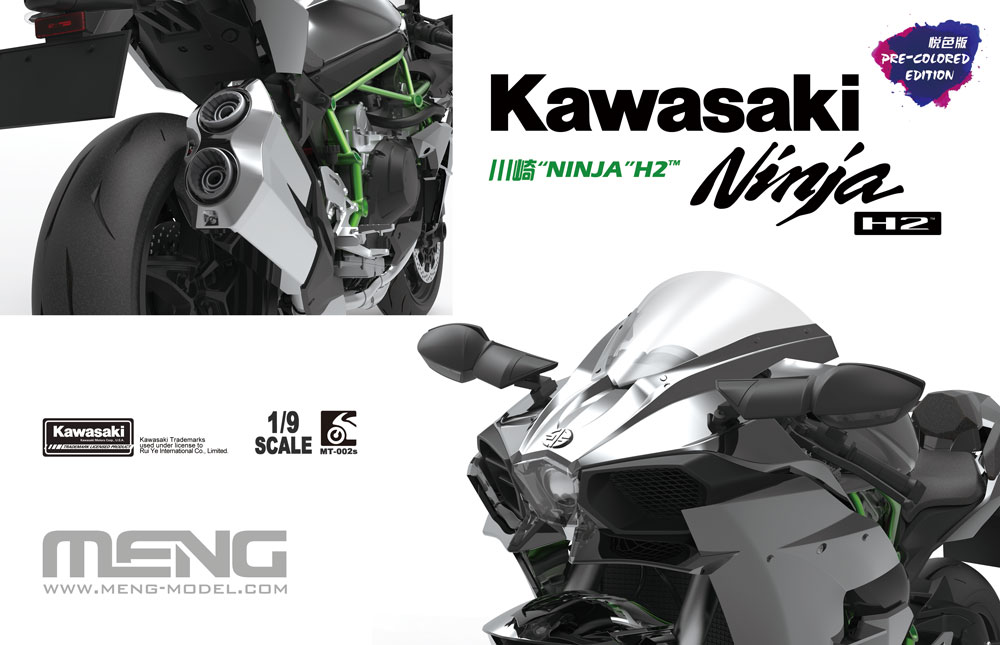 The exhaust system of Ninja H2™ is different from the one on Ninja H2™R. Thanks to the special design, this high rigidity exhaust system has a higher exhaust efficiency and it also ensures that noise and exhaust gas emissions meet regulations. This is also highlighted in this MENG kit. The premade colors perfectly show the different metallic finish.
This Ninja H2™ kit features exquisite details and smooth assembly process. It will surely bring you a brand-new experience.